4 Best Arabic Premium Perfumes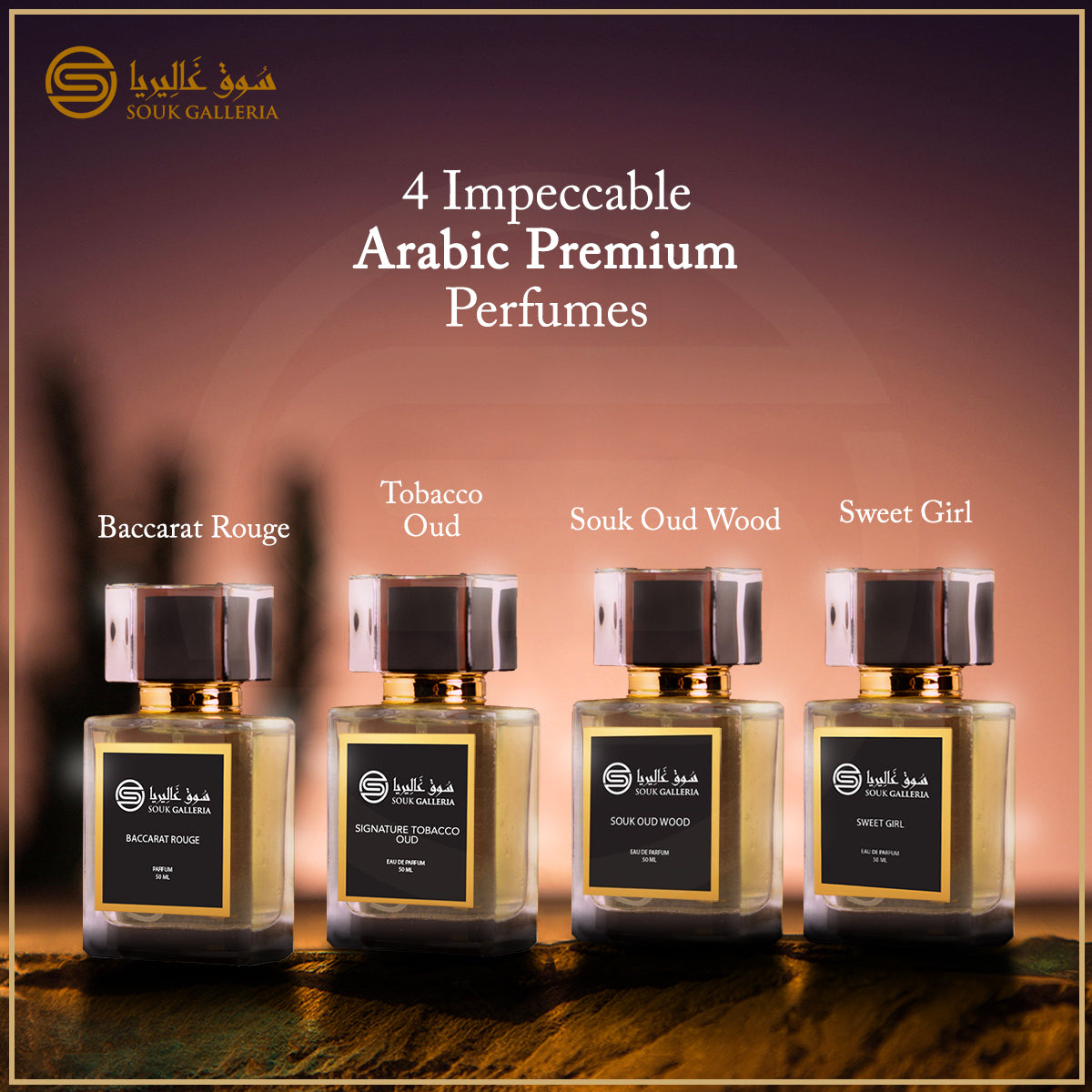 Perfume is a combination of liquid oil and various fragrances of synthetic elements. These fragrances are safe to use on skin, clothes, and as an air freshener. 
We have explored Attars, Bakhoors, and Oud in our earlier blogs. Moving forward, here we will explore another category of fragrance that is Perfume. Perfumes are categorized according to their concentration levels and notes of the essence. This concentration level of the scent depends on the quality and expensive costs of the fragrance. Generally, the higher concentrated Perfume will last for almost 10 hours. 
What Are Arabic Perfumes?
Arabs have a strong culture that has been followed from generation to generation. Their heritage is rich in herbs, medicines, fragrances, and working according to the traditional values. The Arabic scents & spices are so rich that they are mainly used for sacred places and enhance the atmosphere. 
The oriental fragrance of Arab or the Middle East region has main ingredients like raw resin, musk, sandalwood, floral essences, and natural compounds. As Ouds and Bakhoors are used to freshen the aura of atmosphere, similarly attars and perfumes are used for body odor and self-morale. 
The Most Impeccable Premium Perfumes In The Middle East
In the Middle East, several premium perfumes have soft, charming, sensual, and bold scents according to their ingredients and level of notes. These scents spread calmness, serenity, and spirituality in the environment. In addition, the rich essence perfumes inspire your moods, build your confidence and help you treat insomnia with other psychological issues. The premium perfumes from the Souk Galleria collection are as follows.  
Baccarat Rogue

Tobacco Oud

Souk Oud Wood

Sweet Girls
These perfumes have different essences, encouraging users to wear the style with confidence, generosity, and strength.
Its effects on the skin are more likely a combination of amber, wood, and floral essences. This scent is sophisticated in nature, enhancing its highly condensed floral flavor. It is generally for both genders as the unique fragrance inspires the wearer's confidence and perfection in nature. 
This fiery woody fragrance is exclusive in nature as it has a mixture of Arabic tobacco and components of Oud. In addition, this fragrance is unisex in nature as it promotes calmness, richness, and smoothness in nature. 
With synthetic blends of Oud and wood, Souk Galleria offers you an exclusive premium fragrance with a mixture of timber and oud essence. It is highly in demand due to its rich woody fragrance. 
As per the name, its fragrance is sweet and floral. It spreads a sensual aura and the multiple citruses, coffee, floral and base notes of several herbs and flavors. This fragrance is mainly for females who love to describe their sweet, innocent, sensual aura. 
Where To Find Authentic Arabic Perfumes In Pakistan
You can find these impeccable Arabian perfumes collection at Souk Galleria online store which guarantees 100% authenticity of the products. In addition, you can find more variety of products according to your preferences in perfumes. With this, you can order perfume testers before purchasing the Perfume for your use. However, always remember to check the scent on your skin before applying it to your clothes.